Testimonials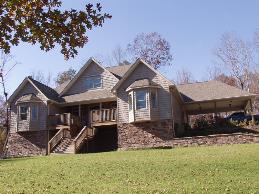 "We took a few random ideas to Bill at Custom Home Designs. He asked us several specific questions, made some awesome suggestions, and within days, had a virtual tour of our new house ready for us to 'walk-through'! It was so exciting! We could even change the wall color in any given room! It also allowed us to tweak the things we probably wouldn't have seen or realized we wanted different until the framing process was done. The fee was very reasonable and Bill was available for our contractor anytime they had questions."

Jason & Laura

Bill convinced us that he was dedicated to our project. He took a general plan that we gave him and customized it to our whims and wants while not complaining about the changes we frequently made. The 3-D views also helped communicate to our builder what we wanted.The finished product is everything we expected after "pre-touring" the house on Bill's computer.
Larry & Nancy

I have had the pleasure of working with Bill on three different custom homes and they all three have turned into beautiful satisfied custom homes that I am very proud of building. I know my clients are pleased beacause they get to live in there custom designed homes everyday.
Kenny Slayton
Brook Stone Construction
www.kennyslayton.com

As partners in the architectural firm Associated Architectural Services, that provides commercial and industrial design services, when we are contacted by individuals about residential design services we refer them to Bill Rasmussen. We have known Bill for many years and have confidence in his skills and experience to provide residential design services for their projects.
Ken Cress & Tom Crye